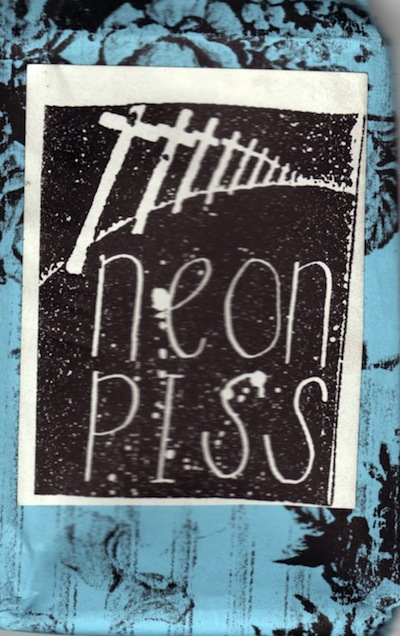 Hey internet; my name is max and I'm very excited and honored to be posting on this already storied and well-credentialed internet-weblog.
Ugh, I hate introductions. Anyhow, I couldn't be happier to be posting the demo of
Neon Piss
, a simply stellar punk rock 4-piece out of the town I'm pleased to have called home for almost a year now: Oakland CA. Neon Piss plays frantically driving, tuneful, and relentlessly catchy pop-laden punk; their sound sometimes recalls the sneering melodies of Denton, TX luminaries
The Marked Men
, the dark, driving hooks of Swedish punks
Masshysteri
, and the mournful affect of
The Wipers
, to name just a few. But this is really a band where getting caught up in the myriad of influences these dudes are borrowing from detracts from what sets them apart as a band: the skill with which they weave them together into something new and fundamentally different form the sum of its parts. This isn't a punk band that's good because they copy great bands (still no sin in my book). They're a great fucking punk band.
If you're in the Bay Area and you've seen these guys (they just played with
Crazy Spirit
and
The Slowmotions
, both of whom played great sets that did not equal that of Neon Piss, imo) then you've probably had this band's name tattooed on some part of your body by now. If not, do yourself a huge favor and cruise over to their website above to see when and where they're playing next (they're headed to the Northwest soon too, keep an eye out). And finally, if a live Neon Piss experience is not in your foreseeable future, head on over to their
Bandcamp page
to stream and download your very own copy of their demo.
And hey, if your clicker-finger is just feeling too tired to go through the labors of clicking a hyperlink, and then ANOTHER hyperlink, and then DOWNLOADING something (life is hard//firstworldproblems) feast your ears on the video below for a choice track from a demo already high on the summer jam list.